Grundfos 15-20 CIL 2 Solar Hot Water Circulating Pump with power lead fitted (does not include pump unions)
$195.00
Tax includedShipping calculated at checkout
SKU: SHWP0009
Grundfos 15-20 CIL 2 Solar Hot Water Circulating Pump
Does not include unions
240V fitted with long lead for easy plug play walk away installation
The Grundfos 15-20 CIL 2 housing (Composite In- Line Version 2) is available in composite material, made by injection moulding, using collapsible core technology.
Grundfos 15-20 CIL 2 specifications:
130 mm from thread to thread housing
3 speed asynchronous circulator, low energy B-class technology
Pressure class PN1
Protection class X4D
Insulation class H
Operation time per year: 3000 hours
Normal operation temperature: +2°C to 95°C
Max. Medium temperature: TF95 (up to 110°C for maximum 1 minute)
Ambient temperature: -20°C to 60°
The Grundfos 15 - 20 CIL is new, comes with the original packaging. It is subject to limited manufacturer's warranty and consumer guarantees as per the Australian Consumer Law.
This product is required to be installed by a licensed trades person as per applicable legislation, and be clear that failure to do so breaches manufacturer's warranty and may result in injury and/or death, may jeopardise applicable insurance policies or may be in breach of the relevant law. Solar Hot Water Parts recommend that Buyers check with their local authorities in regards to any specific regulations regarding licensing requirements for Plumbing or Electrical work.
Further information for Plumbing & Electrical licensing is available at:
State or Territory
Plumbing Licensing Information
Electrical Licensing
Information
NSW
www.fairtrading.nsw.gov.au
www.fairtrading.nsw.gov.au
ACT
www.actpla.act.gov.au
www.actpla.act.gov.au
QLD
www.qbcc.qld.gov.au
www.worksafe.qld.gov.au
VIC
www.vba.vic.gov.au/
www.esv.vic.gov.au
WA
www.commerce.wa.gov.au
www.commerce.wa.gov.au
SA
www.sa.gov.au
www.sa.gov.au
NT
www.plumberslicensing.nt.gov.au
www.nt.gov.au
TAS
www.justice.tas.gov.au
www.justice.tas.gov.au
For returns please contact us by email first and refer to our returns policy Grundfos items bought online from Solar Hot Water Parts can not be returned directly to Grundfos and must be returned to:
Solar Hot Water Parts
PO BOX 5257,
Maroochydore BC Queensland 4558
+61 7 53578135
For all question and technical support on this product please contact us by email sales@solarhotwaterparts.com.au
*All images used in this listing are for illustrative purposes only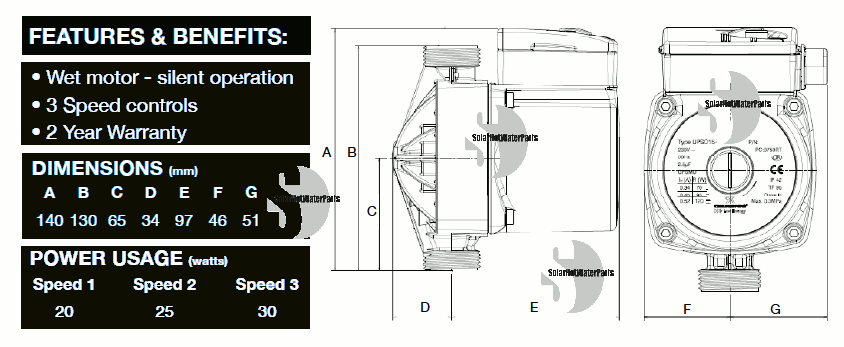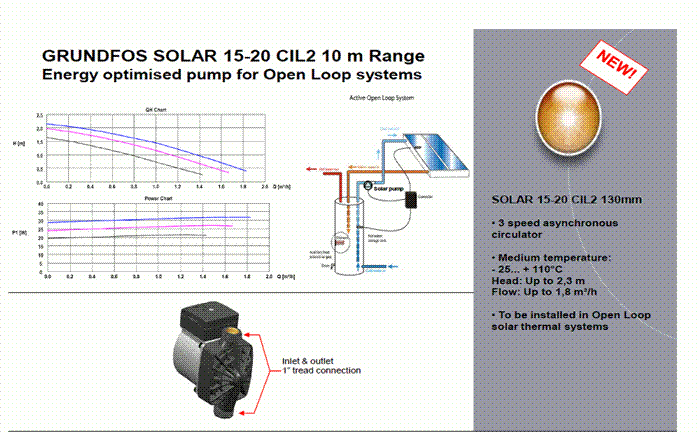 What to consider when choosing a solar hot water circulating pump based on the pumps head:
The head rating on a pump is a static rating, and applies to the maximum head in an open loop system, such as pumping up to a roof tank. In the case of circulation through a roof panel and back down a return line, once the system is primed the weight of water falling down the return line is equal to the weight of water in the feed line, and essentially the pump only needs to overcome the total pipe friction in the system. When you take this into account the limitation is more to do with pipe length than the height.
When replacing the pump, it is also a good idea to replace the non return valve with an AVG solar rated non return valve . Most manufacturers require the non return valve to protect the circulating pump for several reasons. If you have time, take a look at the Grundfos 15-20 CIL 2 in our complete pump stations . The pump station housing has been designed to give the Grundfos 15-20 CIL 2 the best possible protection. They come complete with your choice of the RESOL DeltaSol BS/4 or Senztek SolaStat digital controllers and include a full set of sensors and valves.
The Grundfos 15-20 CIL 2 circulating pump can be used as a replacement pump* for all open loop solar systems, both flat plate & evacuated solar hot water systems. The Grundfos 15-20 CIL 2 is from the Grundfos solar range and has been made to last. Below we have listed the major manufacturers to assist with your circulating pump selection.
Flat Plate Solar Hot Water Systems
Chromagen

Dux
Edwards
Rheem
Rinnai
Hills Solar
Conergy
Bradford Solar
Evacuated Tube Solar Hot Water Systems
AAE
Zen
Apricus
Edson
Neo Power
Hills Solar
Solarark
SolarLord
StratCo
Heavenly Solar
Endless Solar
Bambo Direct
The Grundfos 15-20 CIL 2 circulating pump will work with most brands of solar hot water systems. Please check with us if you are not sure.
* some pipework modification might be required
Grundfos 15 20 cil pump orientation Pump orientation may differ depending on installation. Circulating pumps are not designed to be installed externally. However, if installed externally, the Grundfos 15 20 Cil will need to be installed into a weather proof housing. The Grundfos 15 20 Cil comes assembled ready to install into the protective pump station cover, below. If the pump is not being installed into this style of pump station housing, the orientation of the motor will need to be changed. This can easily be changed once installed by undoing the four allen key bolts connecting the pump to the housing, rotating the pump motor so the lead is facing towards the ground with the variable speed switch to the side and not facing up. Make sure the direction of flow is flowing the correct way. Circulating pumps should be installed correctly with the flow flowing vertically and are not to be installed in the horizontal position as this position can cause damage to the pump and is an incorrect installation of the pump. Circulating pumps need to be installed by a licensed plumber. Incorrect installation may void any warranty.